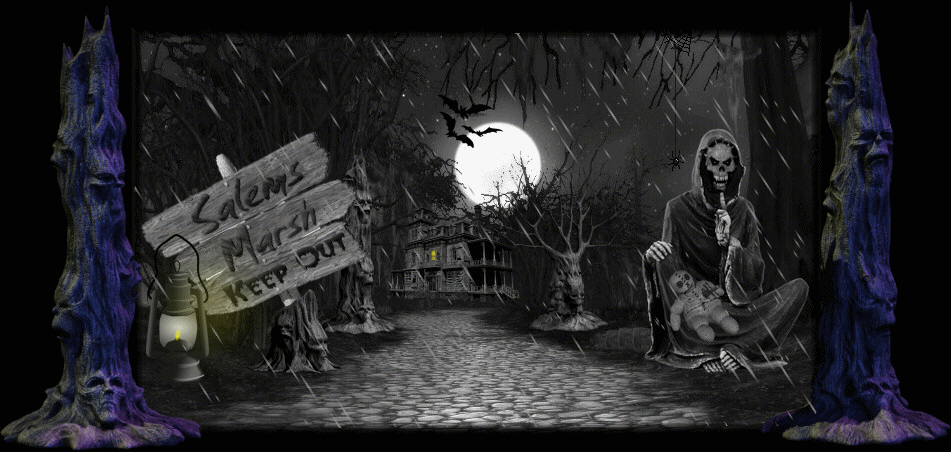 Listen to the night wind as it whispers your name...it is calling.
Watch as leaves dance like tongues of flame...it is calling.
Feel a chill rattle through your frame.....
it will soon be here!

~ CELEBRATING OUR 16TH YEAR HAUNTING YOU! ~

~ HAPPY HALLOWEEN 2014! ~

Once again you find yourself on the misty marshlands.
Alone, lost and in the rainy darkness you uncover an ancient map hidden under a rock you stumbled on.
Salems Marsh has been long forgotten, but there are many dark secrets buried here.
Do you dare uncover them?

Welcome to FRIGHTBYTES.COM, home of one of the first virtual haunts.
See if you can survive the torturous twists and turns in our haunted domain.
Your decisions will determine your fate in our interactive horror stories.
Many have come before you. Sometimes in the quiet stillness of my tomb I can hear their screams....
such delicious music to my ears.

Now begin your journey and use the map and key to open portals
and travel into the many haunted realms of Salems Marsh.
Farewell Foolish Mortal


Frightbytes stories are best viewed with IE or Chrome browsers.
To experience all the spine tingling horror and blood curdling sounds
you'll need a device that runs Flash.