FRIGHTENING FRIGHTBYTES® FEEDBACK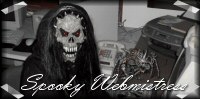 Begin sappy feedback text here:
Your feedback is extremely important to us, we want to make all of our visitors really like us - because we really, um.... care? Enter your comments or suggestions in the form box below.
Thanks Boils and Ghouls.



Continue your virtual hauntings- Choose your poison link below!

Frightbytes HOME



Hey Zombies!