My Demented Ramblings About Copyrights and Graphics Use

It's all in BLACK and WHITE.
Violators will be hunted down by the Hound of Hell (Spacedog) and force fed maggot sandwiches.

THE FRIGHTBYTES® NETWORK
Copyright © 1998-2017 (or Until Hell Freezes Over)
by M. Buck, All Rights Reserved
FRIGHTBYTES.COM ™ / FRIGHTBYTES.NET ™
"Are you hungry for a little fright?" ™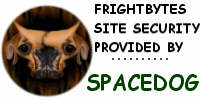 Trademark
FRIGHTBYTES® is a federally registered trademark of Frightbytes.com.


Copyright
IMAGES and TEXT (unless otherwise stated) presented at Frightbytes.com ™ and Frightbytes.net ™ are the original works and intellectual property of M. Buck (artgekko@earthlink.net). Copyright © 1998-2017. All rights reserved. Original story/text works include Salems Marsh Asylum, Zombie Invasion, The Hauntings - Part I, Part II, Purgatory, Haunted Inn (text and associated Flash files), Original Ghost Stories @ Frightbytes.com, and Frightbytes® Fright Gallery @ Frightbytes.net. Some images have been obtained online from various sites distributing images for use as public domain material. Any images or parts of images used fall within the "fair use" practices.

All stories have been created and written solely for Frightbytes.com. It is not public domain material. Unauthorized duplication (digitally or otherwise) is copyright infringement.

Disclaimer

The midi music and wav files have come from various resources across the internet. These files were used since the creation of The Haunting (1998) and since then the sites they were obtained from have long since departed cyberspace.

Text that is not my own has been stated either as "author unknown" or authors name is provided.

HAS A SITE DOWNLOADED AND USED YOUR ORIGINAL MATERIAL?
A few simple tips to help you track them down.

Webrings are an excellent resource. People who copy your material will want to get their website noticed and they will list at Webrings or the so-called "Top-Sites". If you have a horror/halloween site search those types of sites. If you write poetry, search poetry sites, etc.

Use the search engines. Simply type in a short sentence of your material at any search engine. If somebody has copied your text there is a very good chance the search engine will find it.

Be specific about use of your material. State clearly copyright info and what may or may not be used. Copyright each html page and each graphic.

If you find a site using your material write to the webmaster asking them to remove the material OR give you appropriate credit and tell them to do it within 24-48 hours. Let them know if they do not do this you will write to their webhost. Webhosts and Isp's do not want to get involved in legal disputes and in most instances will remove the offending website with little or no notice. In order to get the website back the host will force them to eat a maggot sandwich. This is particularly true with Tripod, Angelfire and other free hosts.



RETURN TO FRIGHTBYTES.COM HOME

Copyright © 1998-2017 M. Buck artgekko@earthlink.net Creator of Frightbytes.com
All Rights Reserved

Why did the skeleton cross the road? Because the chicken was on vacation.