Listen to the night wind as it whispers your name...it is calling.
Watch as leaves dance like tongues of flame...it is calling.
Feel a chill rattle through your frame.....
it will soon be here!

THE HAUNTINGS - Part I
Your Nightmare Begins



Author: M. Buck
Do not copy or redistribute.
FRIGHTBYTES® is a federally registered trademark of Frightbytes.com.
Copyright © 1998-2017
All Rights Reserved. Copyright & Trademark Information Here.

If you have enjoyed my website please consider making a small donation. Donations are used to support our favorite local animal welfare charities and to help pay for webhosting costs. When you make a donation you not only help keep this site going, but your generosity also helps animals in the shelter. Without the support of the online community Frightbytes will simply vanish. If you would like to continue to be haunted please visit our donation page HERE. Thanks Ghouls!





..... you wouldn't listen. You actually believed that Halloween was like every other day...


Now you'll find out how wrong you were. Go ahead and see what's ahead for you in Salems Marsh -- if you dare. Your mission? Find and save the lost souls, journey through Purgatory, unearth lost treasures, come face to face with the Boogeyman, and finally send evil back to where it belongs.

It started out just like any other autumn day. The morning air was crisp and clean the temperature was cool and the leaves crackled under your feet. Yes, this started out just like an ordinary fall day except for one thing:



IT WAS.....

HALLOWEEN



Of course you had to come. But you better hurry to get home. It's getting dark, cold and the wind has picked up. A storm is brewing. You find yourself at the end of the street that leads to the town's cemetery. As you look at the walls surrounding the graveyard you wonder why they do that. Is it to keep something from getting in or something from getting OUT?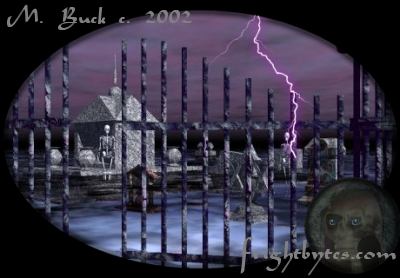 You could get back home safe and sound quickly if you take the shortcut but that means you have to cross the cemetery and go past "The House". You know the one - everyone calls it the Haunted House, long abandoned but the stories about what went on inside that house and in Salems Marsh are still alive. Especially on nights like this - on Halloween.

Now that the storm is so near it's almost pitch black. In the flashes of lightning you see a grotesque form in the cemetery looking into an open grave. Could it be a groundskeeper? You better think fast. Do you want to confront the thing in the boneyard or do you want to get as far away as possible from that thing and run towards the old haunted house. Perhaps if you search the graveyard you'll discover a safer path across the cemetery.

CLICK or TREAT! Don't just sit there, choose one. You hold your fate in your own hands.



† Search the Graveyard?

† Confront the thing in the Cemetery?

† Run towards the Haunted House?



FRIGHTBYTES® is a federally registered trademark of Frightbytes.com.
Copyright © 1998-2017 M. Buck
All Rights Reserved
FRIGHTBYTES.COM - Home