You couldn't resist the temptation of exploring the old part of the cemetery. Especially on this night. Goosebumps pop up on you as the wind blows and makes spooky whispers through the trees. The groundskeeper must be busy laying someone to eternal rest and doesn't know of your presence. You leave him far behind as your path takes you past many crypts and gravesites. It leads you to a section of the cemetery that has all but been abandoned. Headstones are tipped or turned over, graves are covered with weeds and long dead flowers. No freshly dead are here.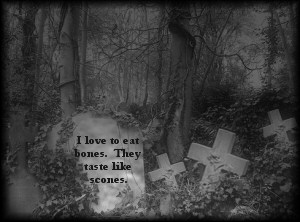 It's pretty plain to see that nobody visits this part of the cemetery. It looks like many of the graves have been disturbed. As you continue through the graveyard you are horrified to find many graves have been partially dug up. What would it hurt disturbing them a bit more? A shovel is laying in the dirt. What do you want to do? Dig up some graves or go back the way you came?



CLICK or TREAT! Don't just sit there, choose one.





Disturbing the dead is wrong - go back the way you came by clicking HERE



DIG, I like poking dead things with a stick! - Pick up shovel and start digging.



Copyright © 1998-2009 M. Buck
All Rights Reserved
FRIGHTBYTES.COM - Home