Frightbytes.com (home)






ZOMBIE MOUTH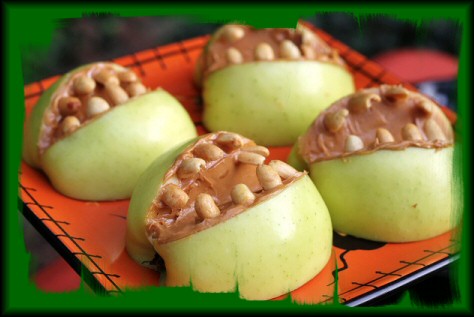 You'll need these ingredients:

Red or Green apples
Peanut butter
Peanuts

How to put together:

1. Cut the apple in half down the middle of the stem. Remove seeds and sit apple down on the flat side.

2. Carefully cut a "V" shape into the apple on the rounded side to create the mouth.

3. Spread the cut area with peanut butter and insert peanuts around the outside of the zombie mouth to form teeth. For a gross effect, add some gummy worms!





ZOMBIE MARSHMELLOWS
...so simple even a Zombie can do it...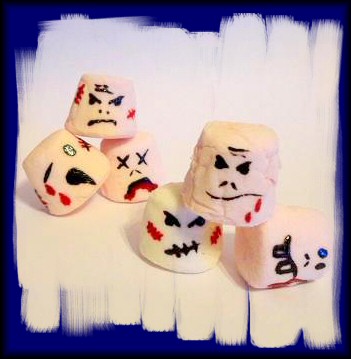 You'll need these ingredients:

Bag of Marshmellows
Food Coloring
A Little Paintbrush

All you do is paint the food coloring onto the Marshmellows!





ZOMBIE MUMMIES
...Yes dear, even the Mummies will eat your brains...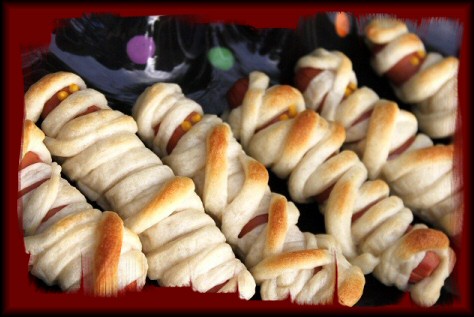 You'll need these ingredients:

Hot dogs
Thin refrigerated pizza dough
Mustard or jar of capers

How to put together:

1. Roll out pizza dough on flat surface.
2. Use pizza cutter to cut thin strips of dough.
3. Begin wrapping the hot dog from the bottom or top making sure to leave some spaces open and to overlap some areas also. You may need two strips of dough per hot dog.
4. Place wrapped dogs on a baking sheet and bake at 400 degrees or according to pizza dough directions, for about 10-12 minutes or until dough is golden.
5. After removing the hot dogs from the oven let cool, use a mustard squirt bottle or capers to make eyes for your mummy. Serve with extra ketchup or mustard if you like.





ZOMBIE TOMATO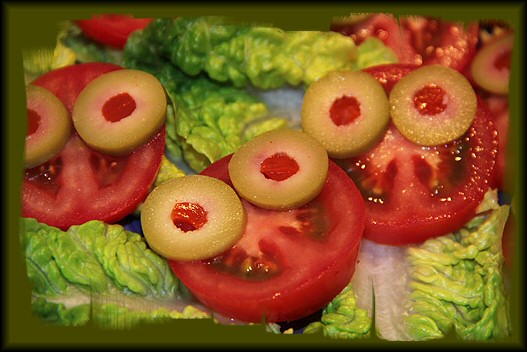 You'll need these ingredients:

Sliced Tomatoes
Sliced Olives
Lettuce

How to put together:

Lay lettuce down, then tomatoes, then decorate!





Every Zombie Loves Finger Food!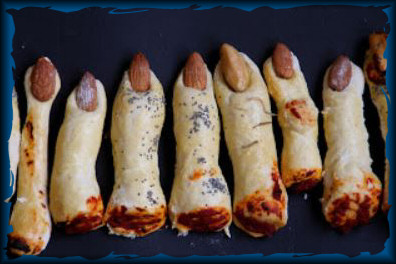 You'll need these ingredients:

2 cans of your favorite pre-made pizza dough
1 jar of marinara sauce or favorite spaghetti sauce
Italian seasonings (or any seasonings you like)
Butter
1 bag of Almonds

How to put together:

1. Follow the instructions on the dough's container on preheating the oven.
2. Roll the dough up into little rolls like the shape of a finger.
3. Stick an almond in the end of the roll for the finger nail.
4. Brush on some melted butter and sprinkle some seasonings.
5. Place the finished fingers on a greased cooking sheet and put them in the oven.
6. Wait for them to cook to a golden brown. (exact time can be found on the dough container)
7. Let them cool off a bit and dip the end that doesn't have the almond in it in the sauce for that gory and delicious touch.





Zombie Eggs - Boil some eggs, color them, then decorate them!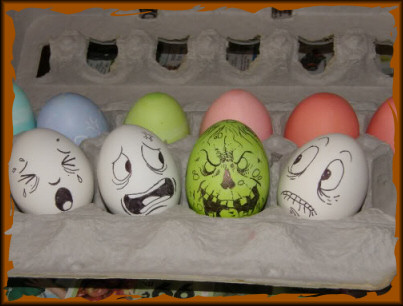 Return to Zombie Mall Directory



Frightbytes® Frightbytes Zombie Mall copyright © 2013 (or Until Hell Freezes Over)
by M. Buck, All Rights Reserved
FRIGHTBYTES® is a federally registered trademark of Frightbytes.com.