At least you made it to the front door - what's left of it. Looks like somebody was in a hurry to either get in or GET OUT. Odd - someone has left a Halloween pumpkin on the porch. Well, you might as well go in. You brush aside the cobwebs and go inside.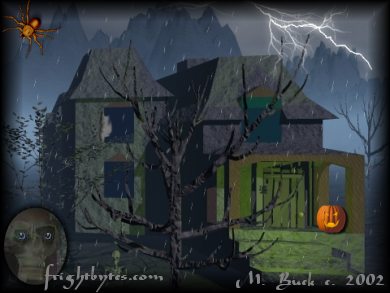 There is an evil about this place. It causes you to shiver. Too many unexplainable things have happened over the years. The old doctor died mysteriously and in a horrible manner. A police investigator followed the case for two years. He had made some remarkable discovery and was on his way back to the Police Station when he vanished. To this day he has never been found. His last phone call was that he had discovered a book. After his disappearance several townspeople vanished too.

You feel something on your neck - you freeze in absolute terror - to afraid to turn around. Maybe you don't want to know what it is.

Oh by the way, you have a HUGE HAIRY spider on you. It's crawling on your neck.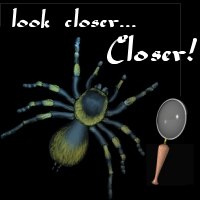 Run your cursor over the spider!

† NEXT



Copyright © 1998-2009 M. Buck
All Rights Reserved
FRIGHTBYTES.COM (home)