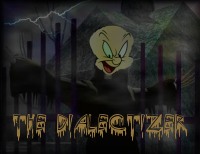 Have some fun with FRIGHTBYTES® by reading the stories in a different dialect. Elmer Fudd and Hillbilly are our favorites. But there are others to choose from. I laughed so hard my jawbone fell off. Some other ghoul split their guts laughing and that was, well, MESSY!

Go to the site below and simply type in our main page url. There is nothing to download and no annoying plugins - it's easy and painless (except for the pain in your side you'll get from laughing so hard!).

Please be aware that any links you follow from my site will be displayed in the chosen dialect. Simply select another site from your FAVORITES, BOOKMARKED, or type in a new URL and the spell will be broken.

Go here: THE DIALECTIZER once you arrive you will see the heading "Dialectize a Web Page". This is where you want to be. It will prompt you "Please enter a URL" you will type in our address. Write down this url:



www.frightbytes.com



That's it! Have fun! Try them all.

YES, please send me to THE DIALECTIZER

NO, I have no sense of humor, send me back to FRIGHTBYTES®




Hey Zombies! Check out what my sponsors are selling for Halloween.



Disclaimer:
The Dialectizer is for entertainment purposes only and is not intended to insult or offend. The Dialectizer is not associated with this site and we cannot promise you will be able to connect to it at all times. We also cannot assure this application will work with all systems or MSN-TV.




Back I say, go back to FRIGHTBYTES.COM you DEVIL!

FRIGHTBYTES® is a federally registered trademark of Frightbytes.com.
Copyright © 1998-2010 M. Buck
All Rights Reserved